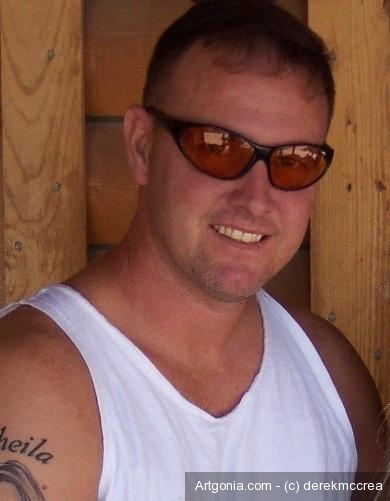 I am inspired by photographs my wife takes of all the places I have been while in the US Army. Painting watercolors and fine art is my stress relief. I have painted contemporary, impressionistic, and modern original watercolor paintings throughout the United States and Europe in past 20 years. I was born in Albany, Georgia on February 19, 1969. I presently reside with my wife, Sheila, of 20 years and my two sons, in Satellite Beach, FL, near Cocoa Beach.
I first started painting with oils in the summer of 1984. From 1985 to 1986 I painted under the instruction of Jimmy Peterson, a very talented southern artist from Georgia. In 1986 I won 1st place in a Georgia Arts Exhibition at the age of 16 and have been painting every since.
I joined the United States Army in 1987 and continued self-study and painting on landscape subjects in France, Holland, Germany, Italy and Hungary, painting in the plein air style. I continued to paint in the oil medium until 2001 when my wife bought me watercolors for my 32nd birthday. Since 2001, I have painted over 200 original landscape, flower, barn and seascape paintings with over 20 being commissions. I became involved in arts councils and exhibitions in Georgia, North Carolina and Texas. In 2002 I began working with other mediums including India Ink and acrylics. My favorite subjects are seascapes and I always use Arches watercolor paper, either cold-pressed or rough, depending on the subject. If I want more detail then I use hot pressed. If I want a lot of texture I use rough.
Lessons learned throughout over 25 years of painting include:
Never paint when you are not inspired.
Try to visualize what you want to paint before you paint the subject and imagine a finished product and what steps you will take to get there.
For larger and more detailed works, draw the image on the canvas first with light pencil.
Establish your own style but learn from others. Experiment with creating art using individual techniques beginning with smaller less detailed images and working your way up.
Techniques I have learned to use and call my own include:
Use of splatter to create depth.
Use of charcoal on finished products to add texture and shadows.
Wet on wet, let the watercolors do their magic. Sometimes watercolors when wet on wet create effects that make you say: "How did I do that?".
Try not to use too much paint, start out with lighter colors and add layers of darker colors. Too much watercolor paint creates a mess that you can not fix. That is the difference between watercolors and other mediums that can be repaired by "painting over".
Use Art Trading Cards to practice your larger images before painting them large. This way if you make a mistake it will be on a small piece of paper and you can apply that lesson to your larger work.
I have seen different techniques for holding the watercolor paper to your background for paintings, including stapling down the sides of the work. I prefer to use masking tape around the entire edges of my paintings.
You can read more about what inspires me and my biography at Bio page at www.derekmccrea.50megs.com/about.html
Derek McCrea is a guest blogger and a member of the Artgonia Community, you can see his Artgonia page here.